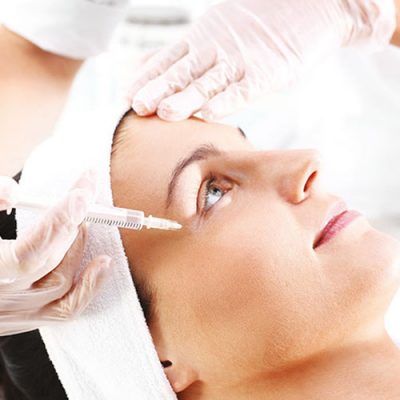 Cosmetic Injectables in Melbourne
Anti-Wrinkle Injections
Anti-wrinkle injections, also commonly known as anti-aging injections, contain a naturally occurring substance that assists in relaxing the facial muscles. This helps to lessen the appearance of harsh wrinkles and lines such as crow's feet, frown lines and lines around the mouth. There is no downtime associated with anti-aging injectables, so normal activities can be resumed soon afterwards.
Dermal Fillers
Dermal fillers are used to add volume to areas of the skin that are looking hollow, sunken or are poorly defined. Dermal filler injections can enhance facial features such as the nose, lips, cheeks and under eye area, helping to restore plumpness and volume for a more youthful appearance. The plumping effect makes dermal fillers a particularly popular choice for adding natural yet voluminous and defined shape to the lips.
Jawline Shaping
Jawline shaping, also known as facial reshaping, is a treatment that can be performed by an aesthetic doctor to soften the shape of the jaw and slim the face. The treatment involves the use of aesthetic injections that work to relax the Masseter muscle in the jaw, helping to give the jaw an oval shape that many people desire. This treatment can also be used to minimise the pain associated with bruxism and teeth grinding.
Mesotherapy
Mesotherapy involves injecting a powerful cocktail of vitamins, antioxidants, and other beneficial substances into the skin to bring about rejuvenation and create a lifting effect. Mesotherapy takes approximately 30 minutes per session, with three sessions recommended to see noticeable, refreshed results.
Skin Boosters
Skin booster cosmetic injections are used to restore elasticity for smoother and more radiant skin. These aesthetic injections can be applied to the face, neck, décolletage, and hands, with improvements lasting for up to 12 months before repeat treatment is required.
Hyperhidrosis Treatment
Hyperhidrosis treatment prevents excessive sweating through the use of cosmetic injections. Each injection contains a neurotoxin which is injected into the area of the body affected by excess sweating. This neurotoxin works to block sweat gland nerves and reduce how much the body sweats.
Get Cosmetic Injections at Bay Medical Aesthetics
Bay Medical Aesthetics offers the above injectable treatments at our cosmetic skin and anti-aging clinic in Melbourne, with each treatment performed by a fully qualified and experienced aesthetic doctor. Contact us today to arrange a consultation and find out which cosmetic injectables in Melbourne may be best suited to your needs.
Grab Your Chance To Push Away Your Skin Concerns