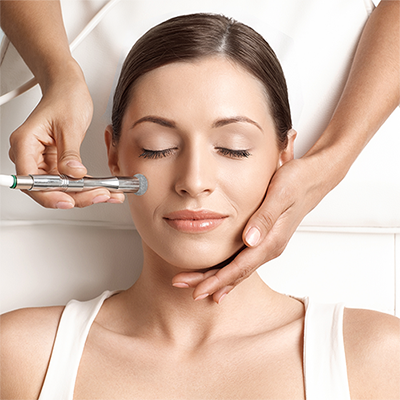 Skin Treatments in Melbourne
Medi-Facials
Medi-facials are specialised skin facials containing medical-grade ingredients. These skin treatments are tailored to individual skin concerns to bring about skin rejuvenation, repair, and restoration. Non-invasive and with no downtime, each medi-facial treatment takes approximately 45 to 60 minutes.
Microdermabrasion
Microdermabrasion is a treatment that exfoliates the skin without the need for surgery, chemicals, or laser. It involves the use of a diamond tipped wand that uses suction to remove dead, dry skin and leave behind a fresh, smooth base that is more responsive and absorbent when makeup and skincare products are applied. Microdermabrasion takes just 45 minutes and can be combined with other aesthetic skin treatments for greater results.
Skin Peels
Skin peels are available in a variety of types to target many skin concerns and achieve different goals. An assessment of the skin is carried out to choose a suitable peel. Skin peels can either penetrate superficial or deep layers of the skin depending on an individual's skin type and goals.
LED Phototherapy
Designed for the face and hands, LED phototherapy involves exposing the skin to non-thermal LED light energy which stimulates skin rejuvenation and repair. LED phototherapy can be used in conjunction with other treatments offered at our clinic, such as medi-facials or skin tightening, to maximise results.
IPL Photo Rejuvenation
IPL photo rejuvenation uses Intense Pulsed Light to focus a wavelength at the skin, penetrating to the second layer, where the pigment cells absorb the light energy and are destroyed, without harming the first layer. This makes IPL photo rejuvenation an excellent option for freckles, age spots and facial redness, while also being effective for anti-ageing.
Radiofrequency Skin Tightening
Radiofrequency skin tightening treatment works by heating the deep layers of the skin to stimulate collagen production. In the weeks following treatment, wrinkles and lines are eased and skin is tightened as collagen increases. Suitable for all skin types, a single skin tightening treatment takes no more than 60 minutes to complete.
Skin Needling
Skin needling is a form of collagen induction therapy that involves penetrating the skin with fine needles to cause micro-injuries. These micro-injuries stimulate the body's natural production of collagen, helping to smooth and firm the skin. Suitable for a range of skin types and concerns, skin needling is one of the most popular facial aesthetic treatments for overall skin rejuvenation.
Subcision
Subcision is a procedure used to minimise the appearance of certain types of scarring, including acne scarring and hypo trophic scarring. It involves using a special needle to puncture the skin and break the fibrotic strands that attach the scar to the tissue underneath the skin. Topical anaesthesia is available to minimise discomfort during the procedure.
Arrange a Consultation for Your Skin Today
For skin treatments in Melbourne that are tailored to your skin needs and goals, arrange a consultation with Bay Medical Aesthetics today. We offer a comprehensive range of skin fitness services, plus all treatments at our clinic are carried out by an experienced cosmetic doctor. Contact us today to learn more about our available aesthetic skin treatments or make a booking.
Grab Your Chance To Push Away Your Skin Concerns