Neck Lift Threading in Bayside, Melbourne
Sagging skin on the neck, often referred to as a turkey neck, is a common concern that can develop with age. Fortunately for those experiencing this concern, a traditional neck lift is no longer the only treatment option, with non-surgical neck lift threading now available to lift sagging skin and improve the appearance of the neck area. At Bay Medical Aesthetics, we offer a neck threadlift in Melbourne using Matrix PDO threads – the gold standard in neck lift threading.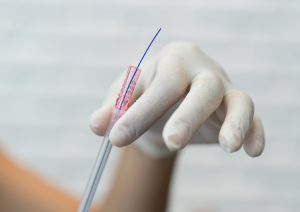 How PDO Threads for the Neck Work
PDO threads for the neck offer a non-surgical alternative to a traditional neck lift, with the treatment involving the insertion of a PDO thread into the skin. PDO is a biodegradable polymer that has been used as a suture material for over 50 years. Recently, it has shown great results when used for cosmetic purposes.
For neck lift threading, PDO threads lift tissue in order to address sagging skin. At the same time, it also assists with collagen production as the PDO thread dissolves over time, leading to tighter, firmer skin. The thread is then absorbed into the body within 180-200 days in a process known as hydrolysis.
At Bay Medical Aesthetics, we have the option of using either Mono Threads or Long COG Threads for neck lift threading depending on the severity of sagging skin. Mono Threads have a smooth surface, while COG threads feature cogs that help to lift tissue for a more drastic result.
The Benefits of a PDO Thread Neck Lift

Non-surgical
Assists with collagen production
Lifts tissue to reduce sagging neck skin
Results are long-lasting
Book a Complimentary Consultation Today
If you're seeking a solution for sagging neck skin, a PDO thread lift for the neck could be a suitable treatment option. Book a complimentary consultation at Bay Medical Aesthetics today to discuss your skin concerns and find out if non-surgical neck lift threading could be right for you.