What is KTP Laser & How Does it Work?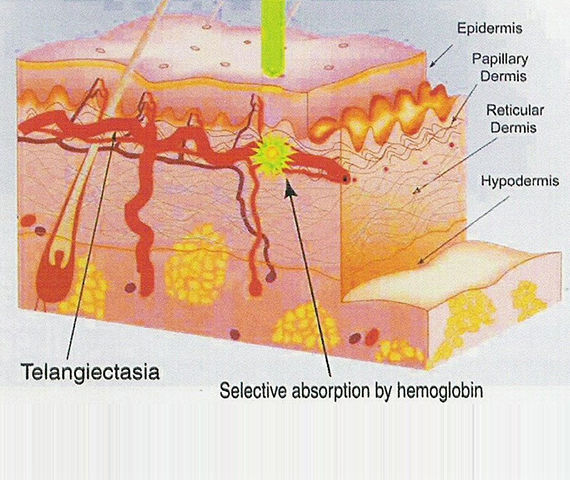 Lasers with specific wavelengths are absorbed by two of the body's own natural chemicals – Melanin in the pigmented areas and Haemoglobin in the red blood cells. Both these pigments convert the light energy into heat. This heat is used to destroy the parts of the cells in which the melanin is stored, and to damage the walls of the vessels supplying blood to the areas where vascular damage is seen.
Hyperpigmentation is best treated with either pigment lasers or IPL. The clinician will examine the skin to identify the plane on which the pigment cluster lies. For instance, freckles are usually on the surface – thus called epidermal pigmentation. Melasma and sunspots, on the other hand, can be in the deeper skin layers – thus called dermal or mixed pigments. Once this relation is made, a suitable laser for hyperpigmentation with a specific wavelength can be chosen for pigmentation removal in Melbourne. With IPL, filters can be applied to choose a range of wavelengths to target multiple planes, however they usually act more superficially in comparison to a laser.
Laser energy is applied to the skin and is immediately absorbed by the rogue melanin particles. The heat generated from the laser impact causes the pigment to heat up and shatter into finer fragments. These fragments are later scavenged and eventually removed by the immune cells and the lymphatic system. Some pigments may be recalcitrant and may require multiple sessions before they eventually resolve and leave behind a complexion that's even in tone and colour.
In general, epidermal pigments are easier removed as compared to the deeper and more stubborn dermal pigments. Dermal pigments may require a combination of lasers to target its numerous planes of placement.
Spider veins are best treated with laser vascular lesion removal. Laser energy produces heat, which selectively destroys the abnormal veins. The laser energy penetrates the skin and is absorbed by superficial blood vessels. The heat generated from the laser coagulates the blood inside the vessel, causing it to collapse and seal.
Over the next few weeks, the vessel will lighten or completely disappear, and all the blood will be removed by the body's scavenging cells. If the blood supply to the veins is strong, the vessels may re-establish blood flow again, making it necessary for several treatments. Laser treatments allow the delivery of a precise dosage of energy to each blood vessel without injuring any nearby structures. However, laser treatment is ineffective for deeper and larger veins.
What Does KTP Laser Treat?
There are a wide range of conditions that this kind of laser therapy can treat, including age spots, freckles, epidermal melasma, ultraviolet dyschromia, broken capillaries, diffuse redness, rosacea, cherry angiomas and salmon patch birthmarks. If you have broken capillaries, laser treatment can be very effective. You may also like to try rosacea laser treatment for general redness, or birthmark laser treatment for removal of long-term pigmentation. Laser vascular lesion removal is also possible.
What is Skin Pigmentation?
Skin pigmentation (hyperpigmentation) is a condition where the skin is darker. This can occur in small patches or cover much larger areas of the body. Example are freckles, age spots, sunspots, dyschromia, dark skin patches, melasma, chloasma, birth marks, Mongolian spots, café au lait spots and sun damage.
It is important for patients to realise that pigmentation cannot be cured permanently. There are multiple factors – from lifestyle, hormones, genetics to environmental stress – that influence pigmentary change, and these may deter complete resolution. In addition to a procedure for pigmentation removal in Melbourne, such as laser for hyperpigmentation to improve tone and colour, a healthy lifestyle and a positive mindset are equally crucial.
What Are Spider Veins?
Spider veins are formed by the dilation of the small veins under the surface of the skin, mostly on the legs. They look like red or purple sunbursts or web patterns. Spider veins are also referred to as telangiectasia or broken capillaries. They usually pose no health hazard but are of an aesthetic concern, especially on the face and other parts of the body.
The exact cause of spider veins is not known, but heredity, local trauma and hormonal levels are believed to be contributing factors. Spider veins become numerous with age and are twice as common in women.
What Does Pigmentation Removal & Vascular Laser Treatment Cost?
Vascular laser surgery and pigmentation removal in Melbourne using KTP laser treatment costs between $2500 and $4000 per treatment, but the final pigmentation or vascular laser treatment cost will depend on the severity of the condition.
What is the Best Treatment for Hyperpigmentation?
There are many possible treatments for hyperpigmentation, including lightening creams, face acids, retinoids, chemical peels, laser peels, IPL therapy, microdermabrasion and dermabrasion. Amongst these options, KTP laser offers a permanent and safe solution to hyperpigmentation. To make sure laser for hyperpigmentation is the right pigmentation removal treatment for you and your complexion, why not arrange an in-depth consultation with one of our highly experienced team members?
Is Laser Treatment Good for Pigmentation?
Laser is a highly effective method for treating pigmentation in the skin. To ensure skin pigmentation laser treatment is suitable for your particular skin type and pigmentation condition, make an appointment at our clinic today. We can guide you on which treatment will be best for you to make your skin glow.
Does Laser Treatment for Pigmentation Hurt?
Two methods are used to ensure your comfort during our procedure for pigmentation removal in Melbourne. If you have highly sensitive skin, we can apply a numbing cream 30 minutes before the treatment. There is also a contact cooling device that can be applied to the skin to cool and calm it throughout the procedure.
What Should I Expect During a Laser Treatment?
Skin consultation followed by cleansing and degreasing of the skin.
The pigmentation or laser vascular lesion removal treatment will begin by applying laser energy to the skin.
Light snapping sounds will be heard when the laser is fired and the skin will feel a slight tingling of warmth.
For vascular laser, non-allergenic clear gel is applied to skin to help facilitate the laser energy.
Is There Anything I Need to Know?
Suitable for skin types 1 to 3.
Can be performed on any part of the body.
The treatment takes 45 minutes to perform.
No anaesthesia.
Painless.
Minimal downtime for the pigment laser. Scabs will form on the treated pigments lasting 3 to 5 days before they fall off spontaneously. No downtime with the vascular laser.
Usually need 2-3 treatments for pigmentation removal in Melbourne at monthly intervals. Maintenance treatments annually recommended.
Are There Any Pre-Treatment Instructions?
Ensure adequate hydration.
Avoid use of tanning lotions and irradiation in solariums.
Use regular sunscreen every 3 to 4 hours at least 1 week prior to treatment.
Ensure regular use of a medical grade hydrating moisturiser.
Avoid heavy smoking and poor nutrition as this may affect the efficacy of treatments.
Thoroughly remove make up, creams, perfumes and other topicals before treatment.
Inform your clinician or doctor if you have any skin breaks, infection, sunburn or compromised skin areas.
If you are prone to cold sores, please inform your clinician.
Inform your clinician if you are on photosensitive drugs.
Are There Any Post-Treatment Instructions?
Keep treated skin cool and deeply moisturised after vascular laser treatment or laser for hyperpigmentation. Avoid direct exposure to sunlight or irradiation in solariums.
Avoid hot showers or using rough towels or scrubs on your skin for 2 weeks.
If you experience any redness, tingling sensation or swelling – use a cool pack first or unscented aloe vera gel. If not resolved, please contact us.
Please avoid alcohol and smoking as it may provoke bruising and delayed healing.
Use a sunscreen every 3-4 hours for at least 6 weeks after treatment.
Avoid aggressive activities or exercise.
Avoid use of irritants like vitamin A, drying agents, hydroxy acids and blood thinners.
Ensure adequate hydration daily.
Invest in a medical grade skin care that supports wound healing and skin rejuvenation.
Where Can I Find KTP Laser Treatment?
Bay Medical Aesthetics is located in the Bayside area of Melbourne at 34 Bluff Rd, Black Rock. We are a convenient choice if you live in any of the following suburbs:
Beaumaris
Black Rock
Brighton
Brighton East
Cheltenham
Hampton
Hampton East
Highett
Mentone
Mordialloc
Parkdale
Pennydale
Sandringham
Come to Bay Medical Aesthetics Today for KTP Laser Treatment
If you want the most effective pigmentation removal or vascular laser surgery for pigmentation and visible veins, as well as a host of other skin conditions, come straight to Bay Medical Aesthetics. Our Founder and Medical Director, Dr Aarthi Maria Francis, leads an expert team who are focused on getting the best results for your individual appearance. If you want better skin now, call us today for an initial consultation for skin pigmentation laser treatment on (03) 9589 0200.