How Does it Work?
Radio frequency skin treatment works by using our advanced technology to penetrate the skin layers with heat in order to stimulate collagen production. The dermis, the second layer of the skin, is full of collagen. This collagen also exists deeper in the fat layer as strands that weave between fat, providing structural support and giving skin its youthful appearance. RF skin tightening treatment is a safe & effective treatment which tightens the existing collagen fibres and stimulates surrounding cells to work more efficiently. Your skin will have a lifted look immediately after RF treatment for the face, and results will continue to be seen over the following weeks, including a reduction in wrinkles, lines, and folds.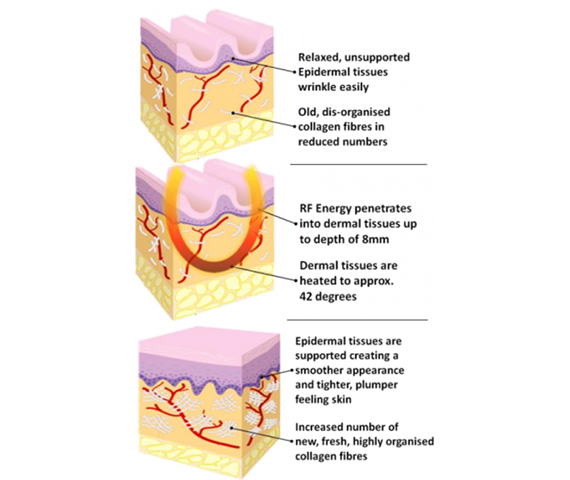 What Can I Expect During This Treatment?
Our experienced clinicians will perform a thorough skin assessment to highlight areas of laxity, jowls, deep folds, crow's feet, and turkey neck folds. Targeted treatment areas are marked and cleansed thoroughly. A pre-exfoliation with microdermabrasion may be recommended to enhance results.
A non-allergenic conductive gel is applied to the areas being treated. This gel acts as a cooling agent and facilitates the RF energy transmission. The RF probe, which has a cool tip for added comfort, is gently placed on the targeted areas. During treatment, there will be a controlled temperature rise to stimulate collagen production.
While radio frequency skin treatment uses heat to stimulate the skin, the sensation is not intense. You can expect to feel no pain during the treatment. While you will experience some warmth on the skin, this should not burn or feel painful. Afterwards, the skin may appear lightly flushed for 30-60 minutes.
This treatment is suitable for all skin types and usually takes 60 minutes to perform. It is recommended every 4 to 6 weeks. There is little-to-no downtime required.
Book Your Complimentary Consultation Today
If you're ready to bring new life to your complexion with RF Skin Tightening treatment, arrange a complimentary consultation at Bay Medical Aesthetics today. Our experienced clinicians will provide tailored RF skin tightening treatment in Melbourne to help address your specific skin concerns and goals. Call us on (03) 9589 0200 & book your complimentary consultation today.