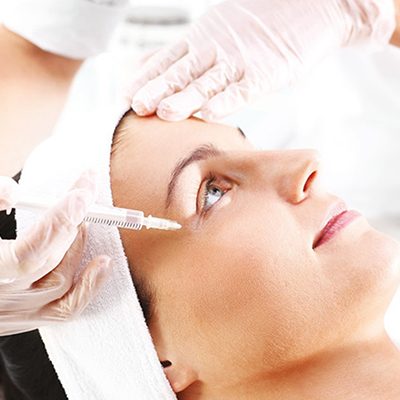 With age, it is only natural to lose the elements that keep one's skin soft, taut and supple. The ageing process can be unduly accelerated by repetitive facial movements like squinting, frowning, smiling and laughing. Loss of elastin and collagen, with superadded effects of gravity, eventually convert a smooth face and neck into a valley of wrinkles and folds, resulting in a sad, tired or angry appearance. For example:
Crow's feet around the eyes are due to smiling and activity of the eyelid muscles (orbicularis oculi).
Worry lines on the forehead are due to contraction of the frontalis muscle when raising the eyebrows
Frown lines between the eyebrows are due to contraction of corrugator supercilii muscles and procerus muscle when concentrating or angry
Deeper lines or furrows are classified as dynamic or static. Dynamic lines appear with movement, i.e. the activity of facial muscles. Static lines are unchanged with muscle movement. Eventually, dynamic lines become static. Dynamic lines can be treated with anti-wrinkle injections while static lines may require dermal fillers.
Anti-wrinkle injections are made from a neurotoxin protein produced by an organic bacterium and related species. In cosmetic applications, anti-wrinkle injection is considered safe and effective for the reduction of facial lines and wrinkles.