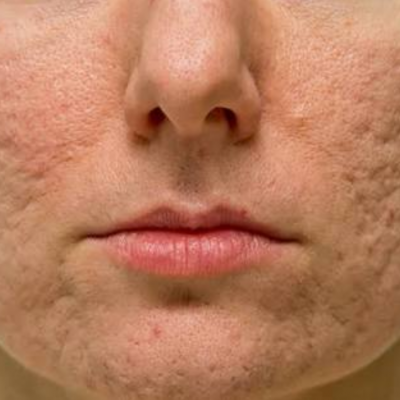 Scar is an exaggerated response by the skin to an inflammation. It can develop as the result of acne or other types of inflammations or trauma, such as infections, chickenpox or surgery. Rarely, but more commonly in darker skin types, scars can develop spontaneously. Early intervention may affect the way a scar remodels itself and may minimize its appearance.
The disruption of collagen network is reflected as a depressed (sunken) part on the surface of the skin. Some scars are small in diameter but deep, while some scars are wide and shallow. These are known as atrophic scars.
On the other hand, hypertrophic or keloid scars occur due to the same triggering factors (inflammatory reaction). However, in hypertrophic scars, the disrupted collagen network is replaced by an overgrowth of dense fibrotic tissue; giving it the elevated, brownish, thick "cord like" scar tissue.
Stretch mark is a form of skin scarring associated with pregnancy, obesity, puberty, and short-term weight gain from bodybuilding and other physical activities. They form when the dermis, the middle layer of the skin that maintains shape and elasticity is stretched more than it can tolerate. Connective fibers in the skin eventually break, disrupting collagen production and causing scarring.