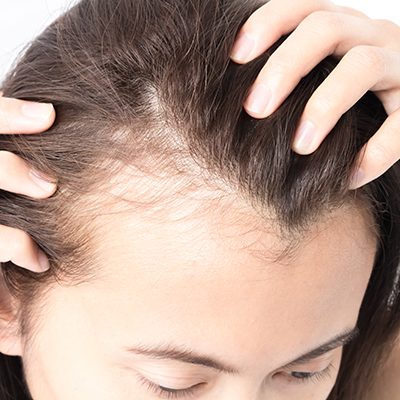 People typically lose about 100 hairs a day. This usually doesn't cause noticeable thinning of scalp hair because new hair is growing in at the same time. Hair loss occurs when this cycle of hair growth and shedding is disrupted or when the hair follicle is destroyed and replaced with scar tissue
Most hair loss is not associated with systemic or internal disease, nor is poor diet a frequent factor. Hair may simply thin as a result of predetermined genetic factors and the overall aging process. Many men and women may notice mild physiologic thinning of hair starting in their 30s and 40s. Life vicissitudes, including illness, emotional trauma, protein deprivation (during strict dieting), and hormonal changes like those in pregnancy, puberty, and menopause may cause hair loss.
Several health conditions, including thyroid disease, vitamin deficiencies and autoimmune disorders can cause hair loss.