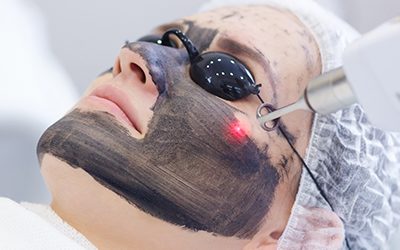 6 Benefits Of Carbon Laser Treatment
Have you heard of Carbon Laser treatment before, but are wondering what it can do for you? That's what this blog post is all about, taking a look at what Carbon Laser treatment is, how it works, and the benefits you can expect. Read on to find out more!
What is Carbon Laser treatment?
The Carbon Laser treatment is also call Carbon Laser Peel or Carbon Laser Facial. As it provides instant radiance and glowing results with no downtime, this treatment can be done even a day before an important event making it popular among celebrities and lending to its other nickname the "Red Carpet Laser".
This safe and proven treatment combines the best of nature and science. Carbon is an organic substance renowned for its ability to absorb impurities while the Q-switched laser – a marvel of modern technology – rejuvenates the skin.
The Carbon Laser treatment exfoliates and purifies the skin, removing stubborn build-up of oil and other impurities which cause or aggravate acne and dulls your appearance. Removing dead skin cells helps promote the growth of healthy new skin and your skin will appear more radiant and evenly toned.
How does a Carbon Laser Facial Work?
After using a gentle cleanser to remove make-up, we start by using a mild alcohol swab to degrease the skin to allow better laser penetration. Then a first pass with the Q-switch laser is done to remove surface debris and open skin pores. A thin layer of carbon paste is then applied evenly over the treated area. Once dry, a second pass with the Q-switch laser pushes the carbon particles deeper into the skin and pores. The activated carbon then absorbs excess sebum and other impurities from deep within the skin and beyond the reach of regular facial wash or scrubs. A third and final pass with the Q-switch using a different setting targets and disintegrates the carbon particles and the impurities absorbed.
At this stage, the skin is exfoliated and deep cleansed. The heat energy from the laser promotes collagen production which in turn strengthens dermal structures, resulting in a healthier, more even, and youthful looking complexion. In our Bayside Melbourne clinic, we finish the treatment by applying a hydrating serum or recovery gel and sunscreen.
What are the advantages of the Carbon Laser Peel treatment?
Instantly visible results – You'll see results from the very first treatment and further improvements with subsequent treatments. Most of our customers repeat Carbon Laser treatments once every 4-6 weeks to achieve and maintain best results, or just before an important event. It is especially popular with brides/grooms-to be, TV personalities, and those gearing up for a major social event.
Minimal to no downtime – Carbon Laser treatment is minimally invasive, which means that you recover quickly from the treatment and are soon ready to meet life with radiant skin. Some customers may experience mild redness after the treatment, which subsides within a day or two. Our doctor and dermal therapist will assess your skin beforehand and may even test the laser on a small area to determine optimal setting.
Safe on all skin types – A Carbon Laser treatment is suitable for all skin types. It's particularly well-suited for those with oily and congested skin due to the carbon's absorptive ability. Men, women, and young adults can benefit from a carbon laser peel treatment.
Treats a range of skin conditions – Uneven skin texture and tone, dull lacklustre skin, sun-damaged skin, acne and congestion, open pores, and hyperpigmentation can all be treated with Carbon Laser treatment.
Works well with other skin treatments – Carbon Laser treatments can be combined with microdermabrasion, LED light therapy, hydrating masks, and active ingredient ampules.
Try out a Carbon Laser treatment in our Bayside Melbourne clinic
Bay Medical Aesthetics is a highly rated and respected cosmetic clinic situated in the Bayside suburb of Black Rock, Melbourne. Established in 2001, our doctor-led expert team offers cosmetic injectables, laser and advanced skin treatments. What truly sets us apart as Bayside's leading medical aesthetics clinic is our unparalleled focus on service and commitment to care, evidenced by the loyalty of our generational customers. We offer affordable, safe, and effective treatments for people of all ages. Get in touch with us today. Call 9589 0200 or email info@baymedicalaesthetics.com.au

[elfsight_social_share_buttons id="1"]