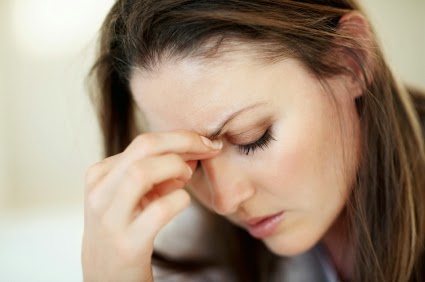 The adrenal glands are small glands located on top of each kidney. They produce hormones that you can't live without, including sex hormones and cortisol. Cortisol helps you respond to stress and has many other important functions.
Adrenal fatigue results when the adrenal glands function below the necessary level. Most commonly associated with intense or prolonged stress, it can also arise during or after acute or chronic infections, especially respiratory infections such as influenza, bronchitis or pneumonia. As the name suggests, its paramount symptom is fatigue that is not relieved by sleep. You may look and act relatively normal with adrenal fatigue and may not have any obvious signs of physical illness, yet you live with a general sense of unwellness, tiredness or "gray" feelings. People experiencing adrenal fatigue often have to use coffee, colas and other stimulants to get going in the morning and to prop themselves up during the day.
Adrenal fatigue can wreak havoc with your life. In the more serious cases, the activity of the adrenal glands is so diminished that you may have difficulty getting out of bed for more than a few hours per day. With each increment of reduction in adrenal function, every organ and system in your body is more profoundly affected. Changes occur in your carbohydrate, protein and fat metabolism, fluid and electrolyte balance, heart and cardiovascular system, and even sex drive. Many other alterations take place at the biochemical and cellular levels in response to and to compensate for the decrease in adrenal hormones that occurs with adrenal fatigue. Your body does its best to make up for under-functioning adrenal glands, but it does so at a price.
Stages Of Adrenal Meltdown: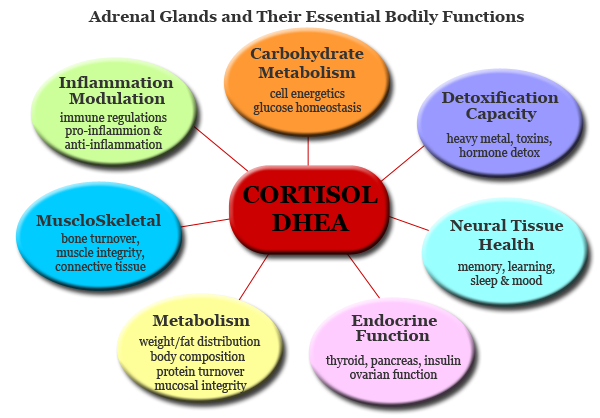 Stage 1
In the early stages, cortisol and DHEA remain at normal levels. The adrenal glands are able to handle the stress being placed on the body. Hormone production may be somewhat affected but for the most part, the body is able to produce enough cortisol and DHEA to compensate.
Stage 2
With the body under constant stress, cortisol levels continue to rise. DHEA levels begin to gradually decrease. As the adrenals begun to struggle, symptoms like nervousness, disruptions in sleep patterns, body aches and digestive problems begin to start.
Stage 3
In this stage, anxiety and exhaustion begin to appear simultaneously. Panic attacks can result from extremely high levels of cortisol in the system. With the level of DHEA continuing to drop, sleeplessness may result. When these two extremes begin to affect day-to-day activities, people usually seek medical treatment.
Stage 4
As the body's stored DHEA, begins to be used up, cortisol levels begin to drop. Cortisol levels may taper off and symptoms may seem less. The body remains under stress, and resources of cortisol and DHEA are being depleted. A person's energy patterns begin to change. It becomes more difficult to wake up and even harder to fall asleep. Sleep is often disrupted as blood sugar begins to drop.
Stage 5
Stage 5 of adrenal fatigue shows DHEA levels rising. Because cortisol production has stalled, very little of the existing DHEA is being used. What little cortisol is available is quickly being used in the effort to handle stress. The body continues to weaken, and little activity is possible.
Stage 6
During this stage, the body tries to stimulate the production of cortisol as DHEA levels rise above normal. Adrenocorticotropic hormone, or ACTH, is not available to fuel the process, so the body continues to weaken. ACTH levels have continually dropped, along with levels of other hormones throughout the body. This is usually the body's final attempt to correct the imbalance.
Stage 7
Stage 7 is rarely seen; it's basic adrenal failure. The adrenals have ceased to function for the most part, and little can be done to restore balance.
In view of this, it is so important to understand the importance of stress management in a more holistic level. So what can one do, when we start to face adrenal malfunction? In my next blog post, I will discuss at length the role of exercise, nutrition, adaptogens, supplements and treatment of adrenal fatigue. Keep reading!

[elfsight_social_share_buttons id="1"]