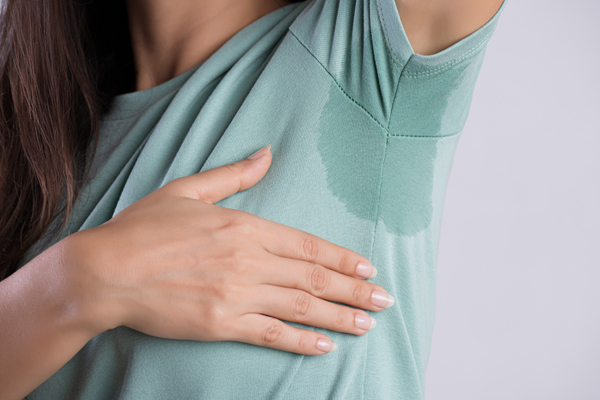 Is Excessive Sweating Affecting Your Work and Social Life?
The symptoms of excessive sweating, also known as hyperhidrosis, can be embarrassing and troublesome. As you go about your everyday life, you may be wondering if people have noticed your high levels of sweat. It stains clothes, ruins romance, and complicates business and social interactions. Severe cases can have serious practical consequences as well, making it hard for people who suffer from it to hold a pen, grip a car steering wheel, or shake hands.
Then there's also the issue of body odour from sweat. Hyperhidrosis can slowly shrink a person's life down as their anxiety about their excessive sweating grows. Fortunately, there are treatments available to minimise the symptoms of excessive sweating. Read on to learn more about hyperhidrosis, including what it is, what causes it, and available hyperhidrosis treatment options.
What is Hyperhidrosis?
Hyperhidrosis is excessive sweating on the body, including excessive underarm sweating and experiencing sweaty palms. It can affect the whole body, or just one area of the body. Focal hyperhidrosis is the term for localised sweating, whereas generalised hyperhidrosis can occur on any area of the body. Excessive sweating can start anytime, but it most often begins during the teenage years.
What Causes Hyperhidrosis?
Hyperhidrosis can have no apparent cause, or it can be a side effect of another health condition such as obesity, gout, menopause, a tumour, mercury poisoning, diabetes mellitus, or hyperthyroidism (overactive thyroid gland). There may also be a genetic component to the cause of hyperhidrosis, with some people with the condition having a parent or sibling who also has it.
What Hyperhidrosis Treatment Options Are Available?
There are a range of natural and medical interventions available for hyperhidrosis, including:
Using Antiperspirants
It's worth knowing that ordinary deodorants don't stop your body from producing sweat, however antiperspirants are designed to do exactly that. Antiperspirants contain the ingredient aluminium chloride, which fills the sweat glands and stops the production of sweat of sweat.
Using Armpit Shields
This excessive sweating treatment involves wearing pads under the armpits in order to protect clothing from excessive underarm sweating.
Wearing Loose Natural Fibres
Synthetic fibres like nylon may cause more sweating than natural ones. Keep your clothes loose to allow for more circulation of air.
Wearing Natural Shoes
When it comes to hyperhidrosis treatment, wearing shoes of a natural material can prevent sweating better than shoes made from synthetic fibres. Leather is a good breathable choice of shoe.
Wearing Breathable Socks
Choose socks that are soft, thick and made from natural fibres, allowing them to absorb moisture with greater efficiency.
Iontophoresis
In this hyperhidrosis treatment, the patient's hands and feet are put in a bowl of water. An electric current is then put through the water. Iontophoresis is a painless procedure, and most people require 2 to 4 20-30 minute sessions.
Hyperhidrosis Injections
Anti-wrinkle injections can be used as an excessive sweating treatment. Injections work by blocking the nerves responsible for activating your sweat glands. Normally, your nervous system activates your sweat glands when your body temperature rises. This is how your body automatically cools itself. In people with hyperhidrosis, however, the nerves that signal the sweat glands are overactive.
When you receive these injections directly into the area of your body that commonly sweats, your overactive nerves are essentially weakened. When your nerves can't signal your sweat glands, you don't sweat. This treatment only prevents sweating in the specific area where it's injected. by freezing the nerves that cause the sweat glands to work. Several injections may be necessary to see a positive result.
Anticholinergic Drugs
This hyperhidrosis treatment is a drug that stops the travel of parasympathetic nerve impulses. After being on these drugs for 2 weeks, patients often notice a marked improvement.
ETS (Endoscopic Thoracic Sympathectomy)
This is a more extreme hyperhidrosis treatment, and is only recommended in extreme cases of this condition. It's a surgery where the nerves carrying messages to the sweat glands are severed.
Learn More About Hyperhidrosis Treatment Today
If you want to get your excessive sweating under control, Bay Medical Aesthetics can help. We offer hyperhidrosis injections that can help you break free from the inconvenience and hassle of excessive sweating. We also offer a range of other skin treatments for different ailments, including hidradenitis suppurativa, among other conditions. Call us today on (03) 9589 0200 to discuss your skin concerns with our cosmetic doctor.
[elfsight_social_share_buttons id="1"]